One of the universal reasons why needlework is so well loved is the lack of prep time. What other creative pastime allows you to just jump right in? Pick up a needlepoint canvas, a needle, a fiber, and possibly a stitch guide and you are ready to go. Grab a piece of evenweave fabric, a needle, floss, and a chart and let the stitching commence!
Unless you aren't sure of the fiber's washability.
It seems that every day I read a post or comment about one of the following:
"Will the overdyed floss I used in this project run?"
"I washed my project stitched with this overdyed floss and it has ruined my project!"
"I stitched with an overdyed fiber; can I still I block my needlepoint canvas?"
This is when an ounce of prevention comes in handy.  I'm working on a small sampler that includes an overdyed floss from ThreadWorx (#1052) so I stitched a short row of cross stitches and backstitches on the same linen I am using for the project.
NOTE: If I am planning to use an overdyed fiber on needlepoint canvas, I stitch a similar test on linen or cotton. If it doesn't run on linen or cotton, I figure it isn't going to run on canvas and it's just a lot easier to test the fiber on fabric than canvas.
I washed my test piece in the same manner I will wash the stitched sampler: same water temperature (tepid) and with the same soap (Orvus in this case).
Happily, no problems surfaced. If the color had run, I would have had a few choices.  I could choose a different fiber (unlikely). I could stitch in such as way that I would never have to wash or block the fabric and hope that at no time would any unfortunate spill cause me to need to rinse it out (scary thought). I could try some remedy to remove the wayward dye BEFORE ironing or applying any heat would make it a permanent stain (my usual stubborn next move). Or I could take steps to attempt to make the fiber colorfast and repeat my stitch & wash test before proceeding.
I'll show you what I do using two overdyed fibers … one is silk (Waterlilies) and the other is cotton (ThreadWorx).

Sometimes, a simple wash and rinse will solve the problem. This is true if the problem is one of "crocking." Crocking occurs when all the dye did not adhere to the fiber. Basically, think of it as random bits of dye that are floating around until they find something else to stick to … like your canvas, linen, or other stitching fibers.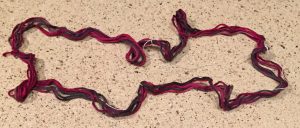 A skein in one continuous loop, like Caron Collection Waterlilies, can be tied off in four or five places to prevent tangling during the wash and rinse process.


Cut skeins like ThreadWorx are also tied off in four or five places along the length.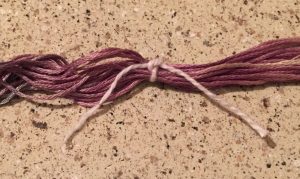 Use white thread, yarn, pearl cotton, or string.
Swish gently in tepid or cool water with the same wash solution you will use for the stitched project. Rinse well. Blot dry and lay the skein on a paper towel to air dry. If the rinse water is clear and the blotting paper towel is free of color, you are ready to stitch when the skein is dry.
I am not a textile or dye expert and so I will not offer specific advice at this point though I will say that I know enough to know the following to be true:
There are many myths and erroneous information "out there" on the web. For example, a salt and vinegar soak is not a surefire way to make a dye colorfast.
Hot water and even warm water can cause an otherwise stable dye to bleed.
Using the incorrect soap or detergent for a particular fiber can wreak havoc. What is best for wool is not necessarily best for silk or cotton and vice versa. (Your test sample can sort out this problem.)
Some mordants that work really well during the dye process have no discernible effect after the dye process.
What works for cotton and linen ("plant" products) may not work on silk or wool ("animal" products).
So what's a needleworker to do? Since you are reading this online, it's a safe bet that you know how to search the internet for advice. That's a good first step. So is time spent doing research at your local library. Next, whatever advice you find, take the time to test it on a small sample rather than your completed project.
After all, an ounce of prevention is well worth it!
PS: We still have room for a few more stitchers on our annual Stitchers' Escapes Cruise to three fabulous European cities. Join us! You'll find all the details HERE.